AFRICANS IN INDIA
---
Stories of the African
diaspora in India
Written by Carissa Chew. Published Thursday 10 December 2020.
I
n the period spanning the seventh through to the twentieth century, Arab vessels brought significant numbers of trafficked Africans into South Asia as part of the system of
Indian Ocean slavery
. At its peak, as many as ten thousand enslaved Africans were transported from Africa to Asia via the Red Sea each year, with many being sold along trade routes into India.
Known by various names, Islamic records note the presence of enslaved Ethiopians known as 'Habshis' in India as early as the thirteenth century and European sources tell us that some Goan households held up to one hundred enslaved Africans known as 'Kaffirs' by the end of the seventeenth century. These enslaved Africans remained in India after they were emancipated, and their descendants can be found there today.
The approximately 25,000 people of African descent currently living in India are most commonly referred to as 'Siddis' (alternatively spelt 'Sidi', 'Seedi', 'Seedee') and their most concentrated communities can be found in the regions of Janjira, Gujarat, Andhra Pradesh, Hyderabad, and Karnataka.
Even though the majority of these Africans were brought into the subcontinent against their will, it is important not to overlook the reality that Africans had some agency in their own migration and settlement. The surviving source record tells us that the majority of freed Africans did not desire to return home after they had been emancipated and that a smaller number of Africans also arrived in the subcontinent on a voluntary basis as sailors, merchants, mercenaries, bodyguards, and household servants. A number of African troops from British colonies in West and East Africa were also temporarily stationed in British India during the Second World War.
The African diaspora have made India their home, but they constitute one of the most marginalised communities in Indian society today and are still fighting to be recognised as equal citizens. Only in recent years have a small number of scholars and social justice groups taken interest in the lives and histories of people of African heritage living in South Asia.
Aside from the exceptional instances in which African slaves rose to royalty within early modern Indian society, enslaved Africans were generally ascribed a lowly status as hereditary 'outcastes' and continued to face social stigmatisation even after they had been freed. These enslaved Africans were grouped together on account of their skin colour, yet they had been captured from an array of locations across East Africa and the Horn of Africa and often did not share a language or culture with one another.
.
89-YEAR-OLD 'SIDDI' WOMAN WITH HER 'HAND-MADE AFRICAN PATTERN QUILT' IN BHUJ IN THE KUTCH DISTRICT OF GUJARAT. PHOTO BY WASIM JAMADAR, FEBRUARY 2020.
The African diaspora have made a notable contribution to Indian culture. In the medieval to early modern period, a number of enslaved Africans rose to high-ranking positions in the courts of the sultans as trusted commanders of large armies, whilst others became the founders of dynasties.

Most famously, history books tell of the 'African slave oligarchy' of Janjira. In the 1490s, Ethiopian military leaders overthrew the Bengal sultanate and established what later became the independent princely state of Janjira in the early eighteenth century, which played a significant role in coastal and hinterland politics and existed until 1947 despite various attacks from the Marathas, Mughals, and the British. Between 1791 and 1947, the princely state of Sachin was also under the control of an African heritage ruling class.

Wealthy Africans and their descendants were the patrons of various mosques, tombs, and monuments. In Islamic society, it was not uncommon for enslaved Abyssinians to rise to prominent ranks within the army, with particular opportunity arising in the seventeenth century when Abyssinian war captives were employed as 'military slaves' in India.

In mainstream Indian history, the names of several men of Abyssinian heritage who rose to fame have been remembered. These include Siddi Yakub Khan, Ikhlas Khan, and, most notoriously, the Oromu boy called Chapu who rose to dominate the Deccan Kingdom of Ahmednagar as the notorious Malik Ambar, a military leader who is known for taking on the powerful leaders of the Mughal Empire. As Regent Minister of Ahmednagar (1600-1626), Malik Ambar reinforced his African identity by recruiting 10,000 Ethiopian soldiers within his army, which at its peak consisted of approximately 40,000 men.

.
PORTRAITS OF MALIK AMBAR. LEFT: 'MALIK AMBER OF AHMADNAGER (C.1605-1627)'. MADE BY HASHIM. VICTORIA & ALBERT MUSEUM. RIGHT: ROSS-COOMARASWAMY COLLECTION/MUSEUM OF FINE ARTS, BOSTON/ROSS-COOMARASWAMY COLLECTION.
T
he majority of enslaved Africans in India were not treated favourably, however. African women were enslaved as 'concubines', a euphemistic term for sexual slavery. Europeans fuelled this demand for sexualised slavery in some regions, such as by publishing newspaper adverts for 'female slaves wanted for sexual services'. The Europeans gained a reputation for treating Africans with particular cruelty. The Portuguese
fidalgos
(noblemen) in Gujarat province chained up 'slaves' for auction, for example, and branded their flesh with hot irons.
It is vital to recognise that European empires promoted anti-black prejudices in the colonies in more vigorous and systematic ways and introduced colonial racial structures to the system of slavery in the Indian Ocean. In this way, Europeans racialised the slave trade and exacerbated the perceived differences between Asians and Africans in colonial South Asia.
The Dutch, for instance, insisted that Asian slaves were more hygienic than African slaves, who they also stereotyped as more 'suited' to hard physical labour. Jan Hugyen Van Linschoten, a protestant merchant who travelled in Goa in the sixteenth century described his mixed feelings of aversion and fascination for the dark-skinned 'Kaffirs' - who he compared to 'beasts'.
British rule in India
further heightened racial tensions between Black people and Asians within the Raj. In a report to the British government, Sir Richard Burton stereotyped the Siddi as having 'thievish', 'drunken', and 'fighting' properties.
In 1877, moreover, Burton characterised the African commanders of Janjira as mere 'pirates' and 'sea thugs', despite the fact that they were the strongest power on the Konkan coast in the seventeenth century (stronger than the British trading nations).
PHOTOS OF WASIM JAMADAR , A MEMBER OF THE SIDDI COMMUNITY IN BHUJ IN THE KUTCH DISTRICT OF GUJARAT. VIDEOS OF SIDDI FESTIVALS. BOTTOM RIGHT: ANNUAL SUFI SAINT CEREMONY, NOVEMBER 2020. PHOTOS AND VIDEOS BY WASIM JAMADAR, 2020.
On the one hand, some members of the African diaspora, such as the Habshis of the Deccan, have become integrated into local Indian society through generations of intermarriage. On the other hand, however, many people of African descent living in India today exist as distinctly self-contained African-Asian populations and practice endogamy (marriage within their own community).

The Siddis of Gujarat and Karnataka have preserved elements of their African cultures – most notably evidenced in their music, instruments, dances, rituals, and partial usage of Kiswahili and other Bantu languages. These same communities nevertheless self-identify as 'Indian', speak local dialects (i.e. Gujarati in Gujarat, Kannada in South India, and Urdu in Pakistan and Hyderabad), and have adopted local religions.

Genetic studies have confirmed that a notable degree of interracial sex has taken place between Siddis and Indians (and Europeans) over the past eight generations, with one 2013 study finding that the Siddi on average had 67% African ancestry. When it comes to intermarriage with local Indians, however, religion has proved an influential factor.

Whilst some members of the Siddi community in the hills of North Kanara have become assimilated into local Hindu society, for instance, Christian and Muslim Siddis in the same region remain ostracised within their respective religious circles. The Hindu Siddi in the Bilki and Yellapur districts of Karnataka have intermarried with the local community to a great degree and have successfully carved out their own caste status within the religious social order; this community only socialise with those of equal or higher status and continue to subordinate the 'Bandhis' and 'Namadaris' who rank lower than them in the pecking order.

Class has been an equally influential factor when it comes to assimilation. The Siddi rulers of Janjira intermarried with other princely families, nobility, and upper-class Muslims. Whereas chiefs among the Siddis of Sachin had the opportunity to form marital ties with Arabs and Pathans, poorer Africans were socially excluded from Indian society at large and thus forced to marry amongst themselves.

The Siddi population in Maratha, however, are the descendants of escaped African male slaves who had intermarried with lower class Indian women in Karnara. Free African men also co-habited with lower caste and tribal women in Makran and Gujarat. Across the Indian Ocean World more generally, Muslim slave soldiers, who were usually freed after a period of service, assimilated into their host societies through marriage to local Muslim women.

Surveys have found that the Siddi people have dissociated themselves from the African continent on the grounds that it is an 'undeveloped region'. This is perhaps unsurprising given that anti-black feelings are widespread across India – there is virtually a non-existence of positive representations of Africans in popular South Asian culture and blackface persists in Bollywood. South Asian prejudices against dark skin can be dated back many centuries in fact, with colourism being rooted in caste ideology.

Anti-black sentiments pervade ancient Sanskrit epics such as the Mahabharata, in which the terrifying Fever (the personified embodiment of all ills on earth) is described as 'hideous, dark-complexioned'. Anti-blackness was similarly expressed in ancient Buddhist ideology. Influential Buddhist thinkers Purana Kassapa and Makkhali Gosala in the sixth and fifth centuries BC had reiterated beliefs that humanity included a 'black species', who incidentally had the 'darkest skin' and belonged to the 'lowest caste'. Colourism has had an enduring legacy in South Asian society and in 2013 it was reported that skin-lightening products were a $200 million industry in India.

Anti-blackness was also reinforced and given new legitimacy by the European colonial power structure. Across the British Empire, South Asians were privileged above Africans, whom they believed they were 'racially superior' to. Most notoriously, in reference to South Africa, Indian nationalist leader Mahatma Gandhi described the 'Negroes' as 'a simple and unsophisticated race', just as fellow Indian activist V.S. Srinivasa Sastri had declared in 1923 that 'the natives of Africa are, as everybody knows, not quite civilised'.

South Asians who immigrated to East Africa around the same time concurred that native Africans were also 'of immature mind' and 'without brain'. In the wake of World War One, many South Asians campaigned to make Kenya and Tanganyika sub-colonies of India on the grounds that they were the ones who had been responsible for bringing 'civilisation' to the natives, who they referred to as 'bloodythirsty indigenes' and 'man-eating demons'.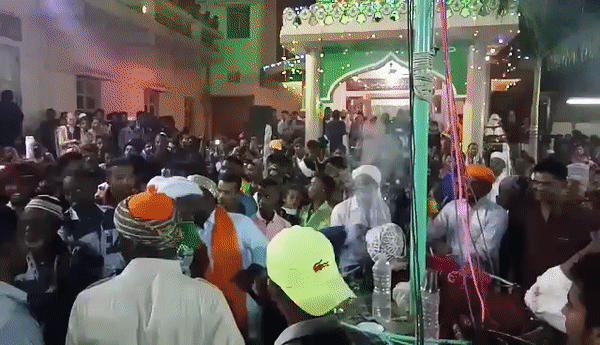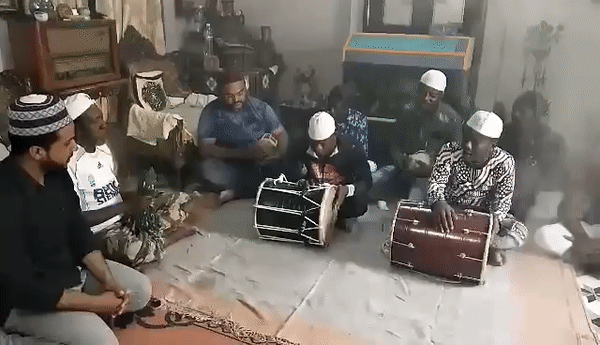 SIDDI FESTIVALS IN BHUJ IN THE KUTCH DISTRICT OF GUJARAT . VIDEOS BY WASIM JAMADAR, 2020.

People of African heritage constitute some of the most economically marginalised groups in Indian society today. The Siddi in the forests of Gir and Western Ghat live in abject poverty. The approximately 8,000 Siddi who live in the Junagarh district of Gujarat, moreover (who are the descendants of the male kennel keepers and female maidens of the harem employed by the last Nawab of Junagarh), also live in deprivation; they have in fact been identified as a Scheduled Tribe on the grounds that they are one of the most disadvantaged socio-economic groups in India.

The Siddi of India are frequently subjected to racial abuse and continue to fight for their rights as Indian citizens. Passport authorities often refuse to believe that the Siddi are Indian and they are treated as tourists when they visit urban areas. The Siddi are often referred to as 'chimpanzees'; 'kaliya' meaning dark; and 'jungli' in Pakistan which means 'wild' or 'savage'.

Racial stereotypes about people of African descent are encapsulated in popular sayings such as 'Even if a Siddi bathes using a hundred tons of soap they will remain black in colour' and 'Habshis have big noses'. In popular culture, the Siddi are reduced to a basic racial stereotype and only make a conspicuous appearance in Indian society when they are paraded as goma dancers at national holiday events.

In anthropological surveys conducted by the Government of India in the 1950s through to the 1990s, the Siddi continued to be categorised as 'outsiders' with their presence being characterised as the 'negroid infiltration into India'. In Gujarat, school textbooks have reinforced these stereotypes through describing the Siddi as people who reside in the forests because they came from Africa (in reality, only a small percentage of the Siddi population live in the forest regions of Gir and Karnataka).

The discrimination that the Siddi have faced is multi-layered, nevertheless, and they also face ostracisation on account of their lack of formal education and economic backwardness.
TOP: INDIAN ACTOR DHARMENDRA IN BLACKFACE PLAYING JALAL-UD-DIN YAKUT, AN AFRICAN SLAVE WHO ACHIEVED A HIGH STATUS IN THE DELHI SULTANATE IN THIRTEENTH-CENTURY INDIA, AND RAZIA SULTAN, THE INDIAN EMPRESS OF TURKISH ORIGIN, WHO RULED DELHI. RAZIA SULTAN (1983) DIRECTED BY KARMAL AMROHI. CENTRE: FASHION (2008) DIRECTED BY MADHUR BARDARKAR. BOTTOM: BLACKFACE BACKUP DANCERS IN HAWA HAWAI MUSIC VIDEO BY SRIDEVI.

Within the Siddi people's founding narratives, there is no reference to their former slave status. It is only in recent years, following the rise of scholarly and political interest in their communities, that the Siddi have begun to re-identify with their African identity and develop what might be referred to as a pan-Siddi cause. For example, the Siddi communities of India expressed a great deal of support for Barack Obama when he won the US Presidential election in 2008 on the grounds that he was a 'fellow African'.

In 1987, the Sports Authority of India established a Special Area Games (SAG) program which attempted to harness the Siddi people's 'African athleticism' in order to improve India's performance in Track and Field at the Olympic Games. The sporting opportunity brought Siddi people from across the country together and it was the first time the Indian population at large learnt about the African presence in their country. Although the Siddi athletes brought their nation great prestige on the world stage and thus were given good publicity at home, they continued to experience racial discrimination. The Siddi people ultimately felt extremely let down by the government when the SAG programme was cancelled withouT warning in 1993.

Although voluntary African emigration into South Asia has been relatively low in the past 50 years, there has been a rise in West African students studying tertiary education in India since the 1990s, especially in the technology sector. The twenty-first century has witnessed many violent mob attacks against African immigrants in India, however, and racist stereotypes about Black cannibalism still pervade the Indian imagination.
---

AFRICANS IN INDIA
EDUCATIONAL RESOURCES


BOOKS


ALI, SADIQ. AFRICAN DISPERSAL IN THE DECCAN: FROM MEDIEVAL TO MODERN TIMES. 1996.

BANAJI, D.R. BOMBAY AND THE SIDIS. 1932.

BANAJI, D.R. SLAVERY IN BRITISH INDIA. 1933.

BHATT, PURNIMA MEHTA. THE AFRICAN DIASPORA IN INDIA. 2017.

BOSE, SUGATA. A HUNDRED HORIZONS: THE INDIAN OCEAN IN THE AGE OF GLOBAL EMPIRE. 2006.

BURTON, ANTIONETTE. AFRICA IN THE INDIAN IMAGINATION: RACE AND THE POLITICS OF POSTCOLONIAL CITATION. 2016.

CAMPBELL, GWYN, EDITOR. THE STRUCTURE OF SLAVERY IN INDIAN OCEAN AFRICA AND ASIA. 2004.

CAMPBELL, GWYN, EDITOR. ABOLITION AND ITS AFTERMATH IN INDIAN OCEAN AFRICA AND ASIA. 2004.

CATLIN-JAIRAZBHOY, AMY AND EDWARD A. ALPERS, EDITORS. SIDIS AND SCHOLARS: ESSAYS ON AFRICAN INDIANS. 2004.

CHATTERJEE, SUNITI K. AFRICANISM: THE AFRICAN PERSONALITY. 1960.

CHAUHAN, R.S.S. AFRICANS IN INDIA: FROM SLAVERY TO ROYALTY. 1995.

DONIGER, WENDY. HINDU MYTHS. LONDON: PENGUIN, 1975.

GUPTA, ASHIN DAS AND MICHAEL PEARSON, EDITORS. INDIA AND THE INDIAN OCEAN, 1500-1800. 1987.

HARRIS, JOSEPH. THE AFRICAN PRESENCE IN ASIA. 1971.

HARRIS, JOSEPH, EDITOR. GLOBAL DIMENSIONS OF THE AFRICAN DIASPORA. 1993.

HAWLEY, JOHN C., EDITOR. INDIA IN AFRICA, AFRICA IN INDIA: INDIAN OCEAN COSMOPOLITANISMS. 2008.

JAYASURIYA, SHIHAN DE SILVA AND JEAN-PIERRE ANGENOT, EDITORS. UNCOVERING THE HISTORY OF AFRICANS IN ASIA. 2008.

JAYASURIYA, SHIHAN DE SILVA AND RICHARD PANKHURST. THE AFRICAN DIASPORA IN THE INDIAN OCEAN. 2001.

KLEIN, M. BREAKING THE CHAINS: SLAVERY, BONDAGE AND EMANCIPATION IN MODERN AFRICA AND ASIA. 1993.

MACHADO, PEDRO. OCEAN OF TRADE: SOUTH ASIAN MERCHANTS, AFRICA AND THE INDIAN OCEAN, C.1750-1850. 2014.

MAJUMDAR, D.N. RACES AND CULTURES OF INDIA. 1944.

MALALASEKERA, G.P. AND K.N. JAYATILLEKE. BUDDHISM AND THE RACE QUESTION. FRANCE: UNESCO, 1958.

MCPHERSON, K. THE INDIAN OCEAN AND THE SEA. 1993.

METCALF, T.R. IMPERIAL CONNECTIONS: INDIA IN THE INDIAN OCEAN ARENA, 1860-1920. 2007.

ROBBINS, KENNETH X., AND JOHN MCLEOD, EDITORS. AFRICAN ELITES IN INDIA: HABSHI AMARAT. 2006.

WATSON, J.L. ASIAN AND AFRICAN SYSTEMS OF SLAVERY. 1981.
PROJECTS

ALI, OMAR H. 'THE AFRICAN DIASPORA IN THE INDIAN OCEAN WORLD'. SCHOMBURG CENTRE, NYPL.
JOURNAL ARTICLES


Annie Adam, illustrator
annieadam.graphics@gmail.com