INDIAN OCEAN SLAVERY
---
Human trafficking
across the Indian Ocean.
Written by Carissa Chew. Published Sunday 29 November 2020.

T
he Indian Ocean slave trade can be traced from the seventh century, if not earlier, through to its gradual demise in the twentieth century. Despite its extensive period of operation, however, the slave trade that took place on the East African coast and across the Indian Ocean has received relatively little public or scholarly attention in comparison to
the Atlantic slave trade
.
An explanation for this lies in the fact that these two trades operated on different scales. Although the Atlantic slave trade was in operation for only four centuries, it was responsible for the enslavement of approximately 12 million African people, which is roughly the same number of Africans who were enslaved on the East African coast over the much longer period of thirteen centuries.
Whereas the Atlantic slave trade witnessed hundreds of Africans being crammed aboard ships in order to meet labour demands on plantations in the Americas and Caribbean, the Arab tradesmen who dominated the East African slave trade were mostly small business dealers who would typically transport only 10-25 slaves at a time in small ships known as 'dhows'.
The Indian Ocean slave trade did not operate on such an unprecedented scale therefore, but its impact was nevertheless significant and its legacies continue to be felt in the present day.
.
'ARAB DHOW FROM AL-WASTI MUQAMAT-AL-HARARI, 13TH C.' MS ARABE, 5847, FOL. 119V, BIBLIOTHOQUE NATIONALE DE FRANCE, PARIS.

Slavery within the Indian Ocean also differed from the Atlantic slave trade in the sense that it was not an exclusive system of racial slavery. Domestic slavery was common practice in the Indian regions of Bihar, Madhya Pradesh, south Gujarat, and Kerala, for example. Slavery was also a long-established and normalised aspect of some Arab and Islamic cultures as well as many African societies. War captives were often subjected to bonded labour and people who were unable to pay their taxes, had massive gambling losses, or could not afford food during times of famine sold themselves into an established system of bonded labour.

Although some of the cargoes that departed from the East African coast were involved with the Atlantic trade routes, the majority were headed to North Africa, Asia, and the Middle East. In response to growing international demands for ivory in the second half of the eighteenth century, it became increasingly commonplace for Arab ship owners to bring captive Africans on board their dhows as crewmen and as porters who would carry the ivory.

The demand for slavery expanded thereafter, as Africans themselves came to be viewed as an economic resource. In 1844, enslaved Africans could be purchased in Zanzibar for 6-12 dollars and sold for approximately 60-200 dollars the other side of the Indian Ocean.

.
LEFT: 'SLAVERS REVENGING THEIR LOSSES'. FROM HORACE WALLER: THE LAST JOURNALS OF DAVID LIVINGSTONE IN CENTRAL AFRICA, FROM 1885 TO HIS DEATH'. LONDON, 1874. RIGHT: 'ILLUSTRATION DATING FROM 1878 DEPICTING A SLAVE MARKET IN ZANZIBAR.' QANTARA. ORIGINAL SOURCE UNKNOWN.

By the nineteenth century, Zanzibar, economically dominated by South Asian merchants, emerged as the commercial centre of the trade. During the nineteenth century, an estimated 10,000 Africans were sent from Zanzibar to India, with a survey conducted in 1872 reporting that those classified as 'Negro-Africans' constituted 18% of the population of Bombay.

Across the Indian Ocean, enslaved Africans were wanted for an assortment of roles: for example, they worked as pearl divers in the Gulf; soldiers in Oman; sailors in Persia; and salt pan labourers in Mesopotamia. Slavery in the Indian Ocean world was markedly different from the system of chattel slavery in the Atlantic in the fact that enslaved African men (and women to a lesser extent) could rise to positions of power, and even royalty within some Muslim societies.

In the Middle East, male African slaves were not forbidden from education and were sometimes able to intermarry with local Muslim women. Most famously, a boy named 'Chapu' who was born in Ethiopia in 1548 and sold into slavery found fame as Malik Ambar, a military leader in the Deccan region of India who commanded an army of up to 40,000 men. Some enslaved Ethiopian women also rose to power through marriage, being considered as prized wives and 'concubines' in the sixteenth century.

TOP: 'SULTAN MUHAMMAD 'ADIL SHAH & IKHLAS KHAN SUR ELEPHANT (DETAIL)'. THE ASHMOLEAN MUSEUM, OXFORD. MIDDLE: 'ENSLAVED BLACK WOMAN AND MAN IN IRAN, 1714'. CORNELIS DE BRUYN, CORNELIS DE BRUINS REIZEN OVER MOSKOVIE, DOOR PERSIE EN INDIE. AMSTERDAM: R. EN G/ WETSTEIN, 1714. NYPL. BOTTOM: 'JAHANGIR SHOOTING THE HEAD OF MALIK AMBAR'. FREER GALLERY OF ART AND ARTHUR M. SACKLER GALLERY.
The Indian Ocean slave trade was driven by Middle Eastern sultanates as well as Arab and European demands more widely. Rich households provided a demand for domestic female slaves, with many affluent Arab men seeking female African 'concubines', a euphemistic term for sexual slavery. Indian journals and newspapers contained adverts for 'female slaves wanted for sexual services'. From the late fifteenth through to the nineteenth century, South Asian traders (especially from Surat, Kutch, Kathiawar, Porbander, and Cambay) played an active role in the Indian Ocean slave trade and, accordingly, South Asian men established their own trading presence along the East African coast. Gujarati merchants were some of the biggest financiers of the trade, particularly in Mozambique and on the Swahili coast.
The arrival of a European presence in the Indian Ocean, especially the
British East India Company
, further exacerbated the trade, creating new demands for slave personnel who could man the activities of the imperial enterprises. Christian families and Catholic clergymen living in South Asia were amongst the most prominent European communities clamouring to purchase captives from East Africa. Slavery was also an integral part of the culture of Portuguese
fidalgos
(noblemen) in Gujarat province in the nineteenth century, where African captives were stripped and chained up for auction and subsequently branded by their new Portuguese owners.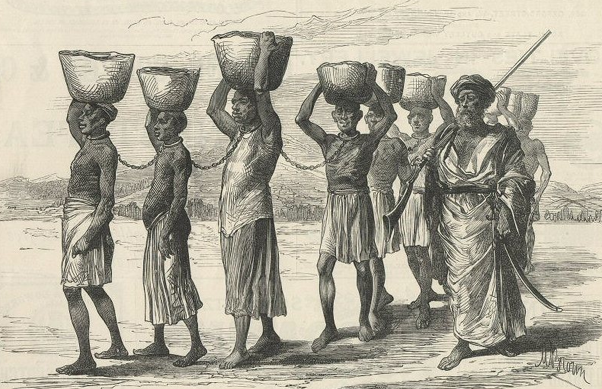 LEFT: ABSRADIOTV.COM. ORIGINAL SOURCE UNKNOWN. RIGHT: 'NINETEENTH CENTURY ENGRAVING DEPICTING AN ARAB SLAVE-TRADING CARAVAN TRANSPORTING ENSLAVED AFRICANS ACROSS THE SAHARA.' PUBLIC DOMAIN. ORIGINAL SOURCE UNKNOWN.

Although the East African slave trade did not rely on African involvement, many Africans were complicit in the trade. Attracted by the lure of the economic and political gains that Arab and European slave traders promised them, many Africans and mixed-race individuals used their local knowledge to assist with the slave-raids and kidnappings (one of the major methods through which slaves were supplied). Some African leaders also found it advantageous to sell African people into bondage in exchange for firearms, which they could then use to establish political authority in their localities. Some African parents who were suffering economic hardship sold their children to slave traders.

As was the case in the Atlantic, enslavers often paid little attention to the welfare of their captives and enslaved African people were kept on ships in appalling conditions where they were subjected to overcrowding, undernourishment, and starvation. One account recalled by Sir Thomas Foxwell Buxton in 1840 noted that 'The Negroes are then stowed in the literal sense of the word, in bulk, the first along the floor of the vessel, two adults side by side, with a boy or girl resting between or on them'. Another record from Captain G. Sullivan in 1873 described 'Twenty-three women huddled together, one or two with infants in their arms. These women were literally doubled up, there being no room to sit erect'.

The marginalisation of enslaved Africans in the Indian Ocean world is also indicated in surviving trade records in which enslaved Africans were classed as 'commodities' alongside pigs and precious metals. Records also detail the cruelty some Arab and Asian masters showed towards African captives: slaves were whipped, denied provisions, and forced to work excessively long hours.

As a response, African captives in the Indian Ocean world engaged with both violent and non-violent forms of rebellion, including soldier uprisings and revolts aboard the dhows.
TOP: 'SLAVES TAKEN FROM A DHOW CAPTURED BY H.M.S. "UNDINE" ON THE EAST AFRICAN COAST'. THE GRAPHIC: AN ILLUSTRATED WEEKLY NEWSPAPER (LONDON), VOL.29, 1884, P.548. BOTTOM: 'GROUP OF NEGRO MEN AND BOYS TAKEN OUT OF CAPTURED DHOW IN STATE OF STARVATION'. GEORGE L. SULLIVAN. DHOW CHASING IN ZANZIBAR WATERS AND ON THE EASTERN COAST OF AFRICA. LONDON, 1873, P.168.
Slavery was first abolished by Britain, Denmark, and the United States in 1808. It was not until the 1880s, however, until the Atlantic slave trade was effectively suppressed. Moreover, as restrictions against slavery within the Atlantic were heightened, French and Brazilian merchants (amongst others) increasing sought their forced labour supply from East Africa. The East African slave trade in fact reached its peak during the nineteenth century, with Arab rulers, most notably the sultan of Oman, opposing abolition efforts on the grounds that it restricted their own traditional cultural practices.
Given these circumstances, the British struggled to effectively eradicate slave trafficking across the Indian Ocean. Although the Abolition Act of 1811 extended to British India and the legal status of slavery was abolished there by the Indian Government Act of 1843, British authorities did a poor job of enforcing this legislation.
Despite the efforts of the British Navy, Arab dhows continued to sail into Indian creeks and the trade also continued overland virtually unhindered. Through a long process of negotiating with numerous Arab kings and rulers, including the highly influential sultan of Oman, Britain managed to officially abolish the East African slave trade by the end of the nineteenth century. The demand for slavery did not abate, however, and the practice continued well into the twentieth century.
One of the major consequences of the Indian Ocean slave trade was the creation of slave-based economies in East Africa. Slavery additionally led to anarchy, increased warfare, increased famine, and economic disparity in the Eastern African countries that were involved. The trade gave rise to a notable African diasporic presence across the Indian Ocean, moreover, and brought Middle Eastern and South Asian societies into contact with African people and African cultures often for the first time.
In certain instances, we see that enslaved and free Africans became fully integrated into their host societies, with there being some notable instances of African captives rising to prominence, gaining freedom, and being heralded as part of South Asian and Arab history. In other respects, however, they have remained outsiders, and,
in the South Asian case
, have faced oppression in accordance with the Hindu caste system for their dark complexions.
Through bringing Africans, Arabs, Asians, and Europeans into contact, the Indian Ocean slave trade gave rise to racial tensions that remain palpable into the twenty-first century. For example, some Arab societies continue to use the racial slur '
abeed'
(meaning 'slave') to denigrate Africans. Many of the descendants of African slaves who remain in North Africa, the Middle East, and South Asia today continue to face economic marginalisation as well as social stigmatisation.
---

INDIAN OCEAN SLAVERY
EDUCATIONAL RESOURCES

BOOKS


ALI, SADIQ. AFRICAN DISPERSAL IN THE DECCAN: FROM MEDIEVAL TO MODERN TIMES. 1996.

BANAJI, D.R. BOMBAY AND THE SIDIS. 1932.

BANAJI, D.R. SLAVERY IN BRITISH INDIA. 1933.

BHATT, PURNIMA MEHTA. THE AFRICAN DIASPORA IN INDIA. 2017.

BOSE, SUGATA. A HUNDRED HORIZONS: THE INDIAN OCEAN IN THE AGE OF GLOBAL EMPIRE. 2006.

CAMPBELL, GWYN, EDITOR. THE STRUCTURE OF SLAVERY IN INDIAN OCEAN AFRICA AND ASIA. 2004.

CAMPBELL, GWYN, EDITOR. ABOLITION AND ITS AFTERMATH IN INDIAN OCEAN AFRICA AND ASIA. 2004.

CATLIN-JAIRAZBHOY, AMY AND EDWARD A. ALPERS, EDITORS. SIDIS AND SCHOLARS: ESSAYS ON AFRICAN INDIANS. 2004.

CHAUHAN, R.S.S. AFRICANS IN INDIA: FROM SLAVERY TO ROYALTY. 1995.

GUPTA, ASHIN DAS AND MICHAEL PEARSON, EDITORS. INDIA AND THE INDIAN OCEAN, 1500-1800. 1987.

HARRIS, JOSEPH. THE AFRICAN PRESENCE IN ASIA. 1971.

HARRIS, JOSEPH, EDITOR. GLOBAL DIMENSIONS OF THE AFRICAN DIASPORA. 1993.

HAWLEY, JOHN C., EDITOR. INDIA IN AFRICA, AFRICA IN INDIA: INDIAN OCEAN COSMOPOLITANISMS. 2008.

JAYASURIYA, SHIHAN DE SILVA AND JEAN-PIERRE ANGENOT, EDITORS. UNCOVERING THE HISTORY OF AFRICANS IN ASIA. 2008.

JAYASURIYA, SHIHAN DE SILVA AND RICHARD PANKHURST. THE AFRICAN DIASPORA IN THE INDIAN OCEAN. 2001.

KLEIN, M. BREAKING THE CHAINS: SLAVERY, BONDAGE AND EMANCIPATION IN MODERN AFRICA AND ASIA. 1993.

MACHADO, PEDRO. OCEAN OF TRADE: SOUTH ASIAN MERCHANTS, AFRICA AND THE INDIAN OCEAN, C.1750-1850. 2014.

MAJUMDAR, D.N. RACES AND CULTURES OF INDIA. 1944.
MCPHERSON, K. THE INDIAN OCEAN AND THE SEA. 1993.

METCALF, T.R. IMPERIAL CONNECTIONS: INDIA IN THE INDIAN OCEAN ARENA, 1860-1920. 2007.

ROBBINS, KENNETH X., AND JOHN MCLEOD, EDITORS. AFRICAN ELITES IN INDIA: HABSHI AMARAT. 2006.

WATSON, J.L. ASIAN AND AFRICAN SYSTEMS OF SLAVERY. 1981.]
JOURNAL ARTICLES


Annie Adam, illustrator
annieadam.graphics@gmail.com