SCOTLAND & THE RAJ
---
Scotland's role in the
colonial exploitation of India
Written by Carissa Chew. Published Wednesday 16 June 2021.
S
cotland's interest in India dates back to the beginnings of
English East India Company activity in the region
at the start of the seventeenth century. As early as 1618, there was a speculative effort to create a Scottish East India Company, but Scottish ambitions to expand their mercantile influence in the East were quickly curbed by English opposition.
From the 1660s, nevertheless, the Scottish elite increased their activity along the trade routes to India, China, the Maluku Islands (known as the 'Spice Islands'), and Africa, which had already been opened up by English, French, Portuguese, and Spanish traders.
By the eighteenth century, Scottish sailors had gained a reputation as reliable seamen and were actively engaged in coastal trading at India, Indonesia, and Canton, finding opportunities to join the ranks of the Dutch East India Company. Scots were also active in the English East India Company, albeit in limited capacity until the Act of Union between Scotland and England in 1707 when the Company became a British enterprise.
ROYAL SCOTS GREYS IN MEERUT, 2ND DRAGOON, 1926. BRITISHEMPIRE.CO.UK.
A
fter the 1720s, Scots began migrating to India in larger numbers as free merchants, soldiers of the Royal Scottish regiments, and East India Company military, medical, and maritime personnel.
The lure of India for most Scotsmen was the possibility of returning home as rich 'nabobs' — the name given to men who came back home after having made incredible fortunes in India. This opportunity, nonetheless, was only truly available to the sons of traditional members of the military aristocracy and landed classes in Scotland, who already had money to their names.
By 1833, approximately 2,000 'nabobs' had returned to Scotland. It was most common for young men to return from India having earned sums of around £20,000, but there were a handful of Scotsmen who had amassed substantial fortunes of up to £300,000. More often than not, these individual fortunes were the product of corrupt means.
Given the investment of such large fortunes into the home economy, the economic advantages of Scotland's eighteenth century India connection was disproportionate to the number of Scots who travelled to the Indian subcontinent.
.
Even after 1707, securing jobs in the English-chartered East India Company was not easy, as Scots were in fierce competition with the commercial fraternity in London. The number of Scots employed by the Company was generally proportional to Scotland's population size, but they nevertheless found themselves underrepresented within the highest ranking positions.

A statistic from 1772 tells us that out of the 4,250 Europeans employed as civil servants, officers, and ordinary soldiers in the Company in Bengal, 560 were Scottish. In 1762, one dismayed Englishman, Major F.T. Smith, wrote home exclaiming that the service in Bengal had been ruined by the fact that one in three officers were Scotsmen.

When all people of the British Isles are considered, Scots were overrepresented in imperialist activities in India between 1725 and 1833. By the mid-eighteenth century, Scots were well-established as merchants and trading middlemen, bankers, planters, insurers, and shippers across the Indian Presidencies of Bombay, Calcutta, and Madras, making a notable contribution to the indigo, sugar, cotton and opium trades. Rumours at the time tell us that Scottish indigo traders were notorious for their heavy drinking and affairs with Indian mistresses.

In 1771, George Bogle, a Scotsman living in Calcutta, wrote a letter to his sister Mary exclaiming 'There are now so many of my Countrymen here that I am, every now and then, meeting with an old Aquaintance'. Scots made up 13% of the European population in Bombay, with a letter from Charles Dilke in the 1860s similarly emphasising that 'The Bombay merchants are all Scotch'.

Though generally dominated by Englishmen, there was also a presence of Scots among Company directors in London and Edinburgh. Many Scots like Sir Alex Gilmour and Sir Alex Grant of Dalvey, Elgin, both proprietors and landowners, were large EIC stakeholders involved in Company politics and Indian affairs in general. Dating from the 1740s and 1750s, Sir Alex Grant helped his fellow Scotsmen travel to India.

Perhaps most famously, Henry Dundas, as a member of the Board of Control which directed British Indian policy after 1784, converted Indian wealth and patronage into political power, creating a Scottish-India link in the public eye. Dundas's influence oversaw an increase in the number of Scots who played a major part in the administration of India, although he was by no means single handedly responsible for this.

BOMBAY SCOTTISH SCHOOL, 1878 (MUMBAI). UNKNOWN.
The Scottish presence was most highly concentrated in the Company's and the King's military forces. Sir Hector Munro of Novar, for example, found fame as commander-in-chief of the victorious Company regiment in the Battle of Baksar in 1764. Of the fourteen royal regiments that served in India between 1754 and 1784, seven had been raised in Scotland, totalling some 4,000-5,000 men. To aid the English woolen industry which was being outcompeted by the Indian cotton trade, it became a legal mandate in the late eighteenth century that the kilts worn by the Scottish regiments be woven from thirteen yards of wool.
The Indian Medical Service (IMS) had also long contained a large Scottish contingent whose numbers far exceeded the proportion of Scots in the British population. Of 3,023 entrants to the IMS between 1804 and 1896, as many as 919 were born in Scotland.
As soldiers and commanders, Scots played their part in the brutal suppression of the Indian Mutiny in 1857, therefore, in which approximately 800,000 Indians were killed compared to 6,000-40,000 Brits. In Lucknow, for example, there were no found survivors after the 84th and 78th Highland Regiments reclaimed Cawnpore from mutineers. Upon discovering that all British women and children had been slaughtered inside the Bibighur Ladies' House, Brigadier-General James Niell ordered that, prior to execution, every captured rebel would be forced to clean a portion of the blood stained house using their tongue. A statue commemorating Niell's role in the relief of Lucknow is erected in Washington Square in Ayr (you can sign the petition for its removal
here
).
JAMES GEORGE SMITH NIELL STATUE, WELLINGTON SQUARE, AYR. 2018. ROSSER1954, WIKIMEDIA COMMONS.
Despite being a small country, Scots were fairly represented in the ranks of governor-generals and viceroys and made a significant contribution to the British imperial project across all areas. Edinburgh doctors James Anderson and Thomas Anderson contributed to the study of natural history and botany in India, whilst Alexander Cunningham and James Ferguson were big names in the field of Indian archaeology in the nineteenth century. In the mid-late eighteenth century, Alexander Dalrymple of Newhailles contributed to Company advancement as a hydrographer, and in 1827 Sir Charles Malcolm rose to commander-in-chief of the Bombay Marine (later the Indian Navy). The British India Steam Navigation Company was founded by two Scotsmen. Additionally, engineering firms in Scotland benefited from the railway boom in India and were instrumental in establishing telegraphic communication between India and Britain in 1856.

Scots also played their role as missionaries in India from the early nineteenth century, with official Church of Scotland chaplains being allowed in the company from 1813 onwards, owing to the campaigns of Glasgow-born Claudius Buchanan. Throughout the eighteenth and nineteenth centuries, Scots founded their own colleges in India, such as the Bombay Scottish Schools in Mahim and Powai.

There were also numerous Scotswomen in India from the eighteenth century onwards, including artists Katherine Read and Scottish sisters Fanny and Emily Eden, and writers Anne Wilson and Flora Annie Steel. The 1931 census recorded 12,697 Scots in India, including 2,529 women.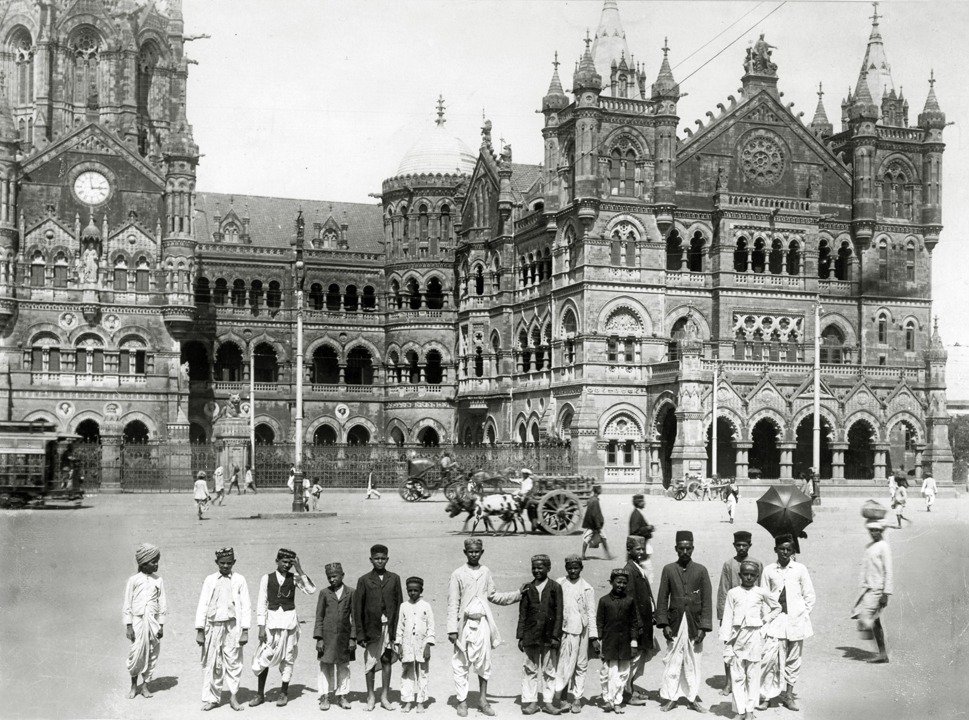 VICTORIA RAILWAY TERMINUS, BOMBAY, 1910. SOME OF THE PILLARS ARE MADE FROM ABERDEEN GRANITE.
The letters of Scottish children's author Helen Bannerman and her husband William reveal that they identified as part of Scots-Indian community as much as a British colonial society. This is most poignantly demonstrated in the elaborate St Andrew's Day celebrations that were held in Calcutta, Bombay, and Madras after 1881.

Organised by local associations like the Caledonian Society, hundreds of guests gathered at halls decorated with Scottish flags and heather imported from Scotland (which was part of national dress) to celebrate. Records tell us that toasts were made to The Land O'Cakes (a term for Scotland) and there were many mentions of national pride. To quote William Bannerman's description of the 1906 Bombay dinner, 'The haggis was brought in on a plate, with two pipes playing in front, and everybody shouted and hooched and made a great noise'.

Not all guests were Scottish, however, and these events provided an opportunity for English government officials to socialise with the predominantly Scottish business community. It is also worth noting that one of the most noticeable characteristics of the dinners held in the Indian presidencies was that they were overwhelmingly male affairs. Scottish women appear never to have attended these St Andrew's Day festivities, although they undoubtedly played a role in the preparations behind the scenes.

The St Andrew's Day dinner held in Madras in 1938, which was one of the last to take place in the colony, welcomed Indian leader C. Rajagopalachari (Rajaji) as a special guest. Rajaji openly made a case for Indian independence by emphasising the shared oppression experienced by Tamils in India and Scots in Britain.

ST ANDREW'S CHURCH, EGMORE, MADRAS. ENGRAVING BY JULIUS WALTER GANTZ, 1841.
M
any Scots shared the racist imperial attitudes of the time about India and its people. In 1748, Royal Scottish officer Alexander Campbell stated 'I'd almost as soon live in Hell as in India'. In 1780 John Macpherson likewise referred to India as a 'vile country' and in her 1812 Journal of Residence in India, Maria Graham expressed her sympathies for the 'depravity' of Hinduism. Daniel Comrie, the first Bishop of Madras, whose father was from Dumfriesshire, described the Indians as having 'deep depravity and want of principles'.
Recent years have witnessed a growth in public reflection about
Scotland's contribution to the Atlantic Slave Trade
, but these discussions need to expand to Scotland's role in the British Empire more broadly. All in all, Scotland's hand in the colonisation of India was significant, and the profits it gained were disproportionate to the size of the Scottish nation.
---

SCOTLAND & THE RAJ
EDUCATIONAL RESOURCES


BOOKS


BRYANT, GERALD J. SCOTS IN INDIA IN THE EIGHTEENTH CENTURY. 1986.

BUDDLE, ANNE. THE TIGER AND THE THISTLE: TIPU SULTAN AND THE SCOTS IN INDIA, 1760-1800. 1999.

CAGE, R.A. THE SCOTS ABROAD: LABOUR, CAPITAL, ENTERPRISE, 1750-1914. 1985.

CAIN, ALEX M. THE CORNCHEST FOR SCOTLAND: SCOTS IN INDIA. 1986.

COMRIE, JOHN. HISTORY OF SCOTTISH MEDICINE. 1927.

DEVINE, TOM. SCOTLAND'S EMPIRE: THE ORIGINS OF THE GLOBAL DIASPORA. 2012.

EDEN, EMILY. PORTRAITS OF THE PRINCES & PEOPLE OF INDIA BY THE HON. MISS EDEN. 1844.

FRY, MICHAEL. THE SCOTTISH EMPIRE. 2001.

GROSJEAN, ALEXIA AND STEVE MURDOCH, EDITORS. SCOTTISH COMMUNITIES ABROAD IN THE EARLY MODERN PERIOD. 2005.

GRAHAM, MARIA. JOURNAL OF RESIDENCE IN INDIA. 1812.

GOLDOPHIN, WILLIAM. THE COURT AND CAMP OF RUNJEET SING. 1840.

HANSER, JESSICA. MR. SMITH GOES TO CHINA: THREE SCOTS IN THE MAKING OF BRITAIN'S GLOBAL EMPIRE. 2019.

INGRAM, EDWARD, EDITOR. TWO VIEWS OF BRITISH INDIA AND THE PRIVATE CORRESPONDENCE OF MR DUNDAS AND LORD WELLESLEY, 1798-1801. 1970.

MACKILLOP, ANDREW AND STEVE MURDOCH, EDITORS. MILITARY GOVERNORS AND IMPERIAL FRONTIERS, C.1600-1800: A STUDY OF SCOTLAND AND EMPIRES. 2003.

MACKENZIE, COLIN. LIFE IN THE MISSION, THE CAMP, AND THE ZENANA, OR SIX YEARS IN INDIA. 1854.

MACKENZIE, JOHN M. AND T.M. DEVINE. SCOTLAND AND THE BRITISH EMPIRE. 2011.

MARSHALL, PETER JAMES. EAST INDIAN FORTUNES: THE BRITISH IN BENGAL IN THE EIGHTEENTH CENTURY. 1976.

MCCARTHY, ANGELA. A GLOBAL CLAN: SCOTTISH MIGRANT NETWORKS AND IDENTITIES SINCE THE EIGHTEENTH CENTURY. 2006.

MCGILVARY, GEORGE K. EAST INDIA PATRONAGE AND THE BRITISH STAGE. 2008.



MCLAREN, MARTHA. BRITISH INDIA & BRITISH SCOTLAND, 1780-1830: CAREER BUILDING, EMPIRE BUILDING, AND A SCOTTISH SCHOOL OF THOUGHT ON INDIAN GOVERNANCE. 2001.

MILLS, JAMES H. CANNABIS BRITANNICA: EMPIRE, TRADE, AND PROHIBITION, 1800-1928. 2005.

PARKER, JAMES G. 'SCOTTISH ENTERPRISE IN INDIA IN THE EIGHTEENTH CENTURY.' IN R.A. CAGE, THE SCOTS ABROAD: LABOUR, CAPITAL, ENTERPRISE, 1750-1914. 1984.

OSBORNE, WILLIAM GOLDOPHIN. THE COURT AND CAMP OF RUNJEET SING. 1840.

POWELL, AVRIL A. SCOTTISH ORIENTALISTS AND INDIA. 2010.

ROBERTSON, WILLIAM. AN HISTORICAL DISQUISITION CONCERNING THE KNOWLEDGE WHICH THE ANCIENTS HAD OF INDIA. 1792.

STEEL, FLORA ANNIE. COMPLETE INDIAN HOUSEKEEPER & COOK. 1898.

TOMLINSON, B.R. 'THE "EMPIRE OF ENTERPRISE".' IN R.A. CAGE, THE SCOTS ABROAD: LABOUR, CAPITAL, ENTERPRISE, 1750-1914. 1984.

TRITTON, ALAN. SCOTLAND AND THE INDIA EMPIRE: POLITICS, SCHOLARSHIP, AND THE MAKING OF BRITISH INDIA. 2019.

WILSON, ANNE CAMPBELL. LETTERS FROM INDIA. 1911.


JOURNAL ARTICLES


BRYANT, G.J. 'SCOTS IN INDIA IN THE EIGHTEENTH CENTURY.' THE SCOTTISH HISTORICAL REVIEW 64-177 (1985), 22-41.

BUETNER, ELIZABETH. 'HAGGIS IN THE RAJ: PRIVATE AND PUBLIC CELEBRATIONS OF SCOTTISHNESS IN LATE IMPERIAL INDIA.' THE SCOTTISH HISTORICAL REVIEW LXXXI.212 (2002), 212-239.

COLTMAN, VICCY. 'SOUJOURNING THE SCOTS AND THE PORTRAIT MINIATURE IN COLONIAL INDIA, 1770S-1780S'. JOURNAL FOR EIGHTEENTH CENTURY STUDIES (2017).

GRIFFITHS, TREVOR, PHILIP HUNT AND PATRICK O'BRIEN. 'SCOTTISH, IRISH, AND IMPERIAL CONNECTIONS: PARLIAMENT, THE THREE KINGDOMS, AND THE MECHANIZATION OF COTTON SPINNING IN EIGHTEENTH CENTURY BRITAIN.' THE ECONOMIC HISTORY REVIEW 61.3 (2008), 625-650.

MCGIVALRY, GEORGE K. 'THE SCOTTISH CONNECTION WITH INDIA 1725-1833.' ETUDES ECOSSAISES 14 (2011) 13-31.

ONLINE ARTICLES



PROJECTS

THESES


MCGIVALRY, GEORGE K. 'EAST INDIA PATRONAGE AND THE POLITICAL MANAGEMENT OF SCOTLAND 1720-1774'. PHD THESIS. THE OPEN UNIVERSITY. 1990.

MUNDY, NIAMH. 'MATERIALISM, COTTON TECHNOLOGIES AND DESIGN: HOW ARE TRENDS IN FASHION INFLUENCED THROUGH TECHNOLOGICAL DEVELOPMENTS?'. MA THESIS. UNIVERSITY OF EDINBURGH, 2019.









Annie Adam, illustrator
annieadam.graphics@gmail.com